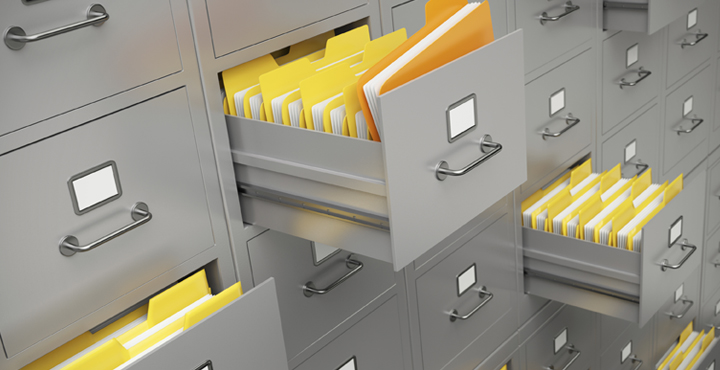 How to prepare your paper records before going electronic – Part 2
In last week's blog post we began a discussion of how to prepare for the move to electronic records. We learned that a key ingredient of a successful electronic migration is a foundation of records management best practices.
These best practices included:
a corporate records classification and retention system
a records disposal policy and a records disposition process
standardization and centralization of your physical records.
With such a foundation in place, you can then focus on the steps required to prepare your physical collection for the move.
Four steps to preparing paper records
Conduct a file inventory: Preparing paper records starts with an understanding of exactly what is in your collection. To be as thorough as possible, you should find out:
which physical records make up the collection, noting the location and quantity of records
which records will need to be converted and which ones need to be retained
how the records are organized for retrieval
what electronic databases are in place to track physical records, and what state they are in
how will the processes for storing and accessing physical records change after the conversion.
Create and validate a conversion database: A database that accurately reflects the contents of your physical collection is the backbone of a successful conversion project.Having a current database will allow you to:
track your files throughout the conversion project
ensure file collection integrity before, during and after the process
keep information accessible throughout.
Conduct a thorough audit of the file collection: You want to make every effort to work with the right documents, and conducting an audit of your existing physical collection is a great way to make it happen. During the audit you should ensure that each file in the physical collection is complete and accurate. This involves such steps as:
finding and returning any missing documents to the correct file
relocating any misfiled documents
ensuring that only the latest versions are part of the file.
Clean up the collection: One of the best things you can do before the move to electronic records is to clean up your existing paper collection. Removing unneeded duplicates and outdated documents makes the transition process more efficient. It also helps with the effectiveness of the new system. To help ensure a successful cleanup, try scheduling the purges in advance, and make sure everything is in place to make them run smoothly. This includes providing file boxes, recycling containers and shredding bins – along with clear policies and instructions for conducting the document cleanup.
Next Steps