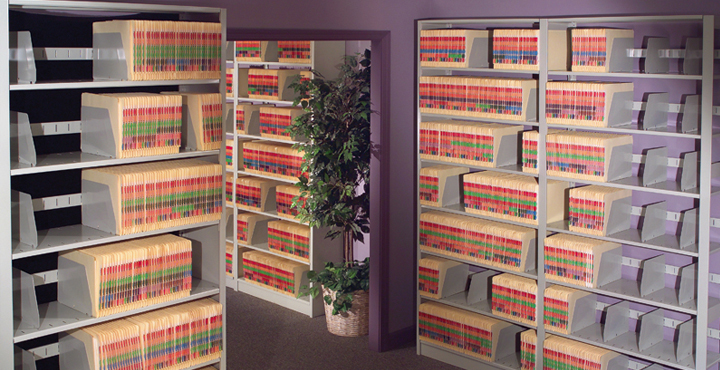 Four reasons to consider a centralized filing system
To centralize or not to centralize? It is one of the most common questions in records management. While physically separate file collections can create extra work in terms of management and file retrieval, many records managers are reluctant to adopt a centralized system. Not only does it require a lot of work, it also has the potential to disrupt business activities.
Despite these real and potential drawbacks, the benefits of a centralized file storage solution often outweigh the downsides. Each organization will have different needs, but the next time the question of centralization arises, the following four benefits are worth careful consideration.
Business process efficiency
Arguments against centralizing usually point to the extra time required for staff to visit a central file room. While this is certainly an important consideration, the argument overlooks the inefficiencies associated with the current decentralized approach. How much time do employees currently spend calling or emailing colleagues to locate a file? Or photocopying and compiling files for inclusion in their own desk file? When you take these factors into account, centralization often wins out on the question of efficiency – and in many cases by a wide margin.
Space savings
Consolidating disparate file collections into a single space offers several opportunities to save on your total filing footprint. For example, the centralization process will almost always uncover unneeded duplicate documents. This gives you an opportunity to purge these extra copies and reduce the number of files requiring storage in the central file room. The other big opportunity for savings is the use of high-density shelving solutions. In smaller file rooms, installing high-density shelves may not be physically or financially feasible. A larger, centralized file room opens up the option of high-density shelving, which can deliver significant space savings.
Improved security
Another common question is whether a centralized file room is the safest place to store sensitive documents. The reality is that with the right measures in places, a centralized file room is far more secure than conventional office storage. The single point of entry makes it easier to control access to the collection, and within the file room, individual sections and collections can easily be segregated and secured.
Improved compliance
Under a decentralized approach, it's almost impossible to ensure that all required records are retained and accessible when needed, such as during an e-discovery. With all your critical files in one central location, it becomes much easier to implement controls relating to retention and disposition of records. This is a huge plus when it comes to managing risk and maintaining compliance with industry legislation.
Next Steps