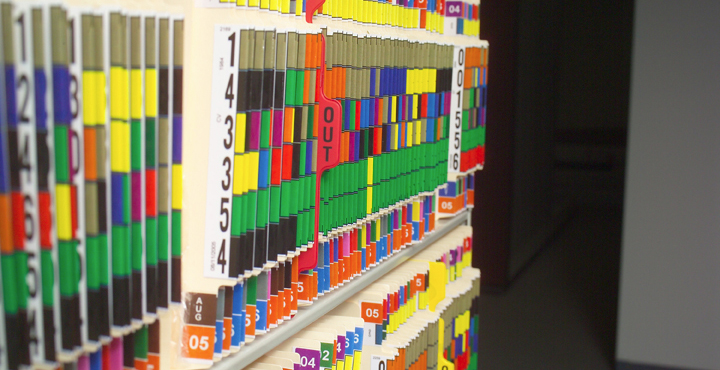 Efficient Paper Filing – Centralization Part 3: Filing Controls
Today's post is the last installment in our three-part series on centralizing physical records and creating a "paperlite" environment.  In the last two posts we covered off file consolidation, conversion and space planning. This week we focus on filing controls, which are critical to the success of a centralized records storage system.
In our experience with many centralization projects, we have identified four helpful strategies and tools for filing controls in the newly centralized collection:
Document all filing procedures and provide step-by-step guidelines for creating, arranging, locating, retrieving and re-filing files on a daily basis.

 

In many organizations, documentation like this has never existed before, but it is essential to create a consistent approach to the centralized storage space.
Put in place dedicated administrative support personnel with exclusive responsibility for ensuring files are compiled and arranged correctly. For optimal control over collections, some organizations allow only designated personnel to arrange, retrieve or re-file, thereby reducing the risk of human error associated with a broad base of users directly accessing file storage. Other organizations have staff responsible for delivering files to users via scheduled file runs or on an as needed basis.
Implement out-cards and other physical tools for identifying when a file has been removed from storage and signed out to a particular user.  This creates a visual reminder that a file is out and needs to be returned.
Use a software tool to index and track files, contents, current location and sign-out status. Ideally, the tool will have barcode scanning capabilities to track every file during retrieval and re-file. Depending on the size and complexity of your business operations and file collections, this tool could range from simple file tracking software to a sophisticated physical and electronic records management system.
As you can see, centralizing requires a more thought-out and careful application of filing controls.

 

Otherwise a small filing mess could become a large one!
Next Steps
Save