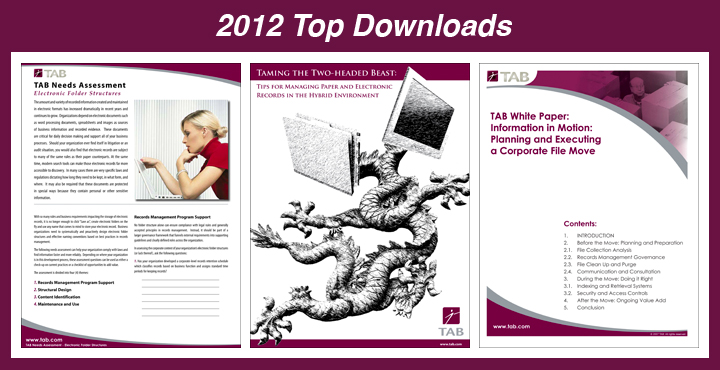 What's Hot So Far In 2012 – Top 3 Records Management Resources
TAB offers all kinds of resources for records management professionals, including On Record, our monthly newsletter – and those subscribers have been busy reading and studying our tools. The most popular downloads of 2012 give valuable strategies for:
Determining the right electronic folders for your organization.
Managing your files in a hybrid environment.
Executing a corporate move.
Here's what your colleagues have been reading:
1.0 Electronic Folder Structures Needs Assessment
With so many business requirements impacting the storage of electronic records, it's no longer enough to click "save as," create electronic folders on the fly, and use any name that comes to mind to store an electronic record. Businesses need to systematically and proactively design folder structures. This resource covers 4 key points:
Records management program support
Structural design
Content identification
Maintenance and use
Going through this assessment will help your organization comply with relevant laws and regulations, as well as find information more quickly and reliably.
Download TAB's Electronic Folder Structure Needs Assessment here.
2.0 Tips for Managing Paper & Electronic Records in the Hybrid Environment
How does a records management professional impose intellectual control and enforce program requirements in a hybrid environment? It can be a challenge so we put together 5 tips to help you meet it. They include:
Avoid the "either-or" approach to identifying files.
Establish central control over a records' life cycle.
Identify the official record.
Purge non-records.
Consider conversion options carefully.
When applied as part of a comprehensive RM solution, the techniques and tools discussed here can help your organization thrive in a hybrid environment.
Download the full white paper – "Taming the Two-Headed Beast": Tips for Managing Paper and Electronic Records in the Hybrid Environment.
3.0 Planning and Executing a Corporate File Move
For a company contemplating a file move, the chain of custody must remain intact before, during and after the move. This resource discusses the challenges of moving records and offers strategies for meeting those challenges at every stage of the process, including:
Preparation, along with file-collection analysis, RM governance and file clean-up.
Indexing and retrieval, as well as security and access, during the move.
Making the most of on-going benefits after the move.
If executed properly, a file move is an opportunity to build on existing program strengths and take a new approach to meeting RM challenges.
Download the white paper "Information in Motion": Planning and Executing a Corporate File Move.
Next Steps