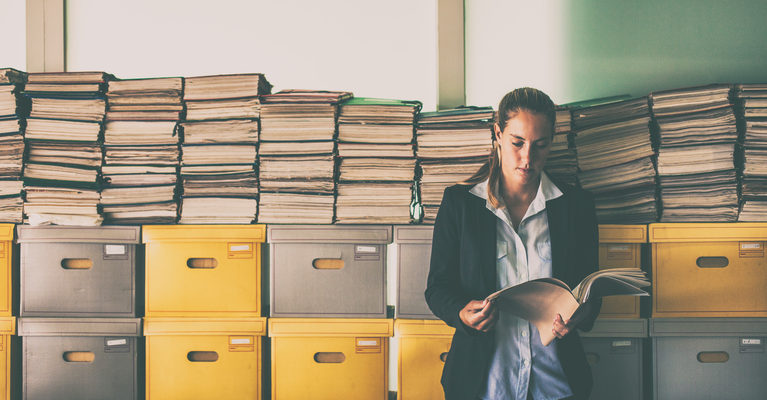 Mergers and acquisitions: How to take inventory of the target company's records collections
In last week's blog post, we looked at a set of questions to help you evaluate the state of the RIM program in the target company involved in a merger or acquisition. The questions focused on assessing the current state of the program as well as any gaps or risks that might jeopardize the success of the transaction. The areas to explore included RIM policies and procedures, documentation, technologies and training programs.
Inventorying the records collections
The next step is to conduct a thorough inventory of the records collections of the target company. These questions assess the current state of the records, unearth potential issues and help you assign sufficient resources to the task of integrating the collections. Depending how much work is required to standardize the two collections, you may need to bring in outside help.
Here are the key questions to guide you as you audit each collection:
Do individual files contain all the documents required for operations and for legislative compliance?
Do individual files contain duplicate copies or unneeded past versions of documents?
Are the contents of files subdivided or arranged in a manner consistent with user needs and filing best practices?
Are physical file labels (content and format) consistent with user needs and best practices?
If the collection was subject to a retention schedule, do any of the records exceed the required retention periods? Can they now be destroyed?
Is there a record of all destroyed documents showing dates and authorization?
Do any files contain personal information and a record of how it was acquired?
Is the continued storage and use of that personal information justified and permitted by applicable privacy legislation?
Are naming conventions for electronic folder structures and documents consistent with user needs and best practices?
Do the cabinets, shelves and filing supplies sufficiently protect records and other media, and do they make optimal use of physical space?
Are filing equipment and supplies compatible with those already in use at your company?
As you inventory each collection, make a note of what you find and what actions need to be taken. When you are finished you should have a clear idea of:
what you are working with and what may be required during integration
any record-keeping gaps that need to be addressed
potential privacy or compliance risks that need to be managed.
Next Steps