A four-step approach to onboarding acquired file collections – Part One
Corporate transactions create a lot of work for records management teams. For example, as a deal comes together, we are often asked to make records available for the discovery process. This can involve setting up temporary records rooms to facilitate reviews of key documents by the acquiring party. The work really begins once the deals are done and we start the massive process of integrating the acquired records collections into a common system. Continue reading →
Reader Favorites, May 2015: Our most popular records management resources
Friday, May 15, 2015
Our most popular resources the past month address key challenges with both electronic and physical records.
Our first resource provides a framework to help you determine if document imaging is right for your organization. We also have a white paper that talks about the best approach to metrics in an electronic document and records management system. Finally, we offer several tips to help you reduce offsite storage costs. Continue reading →
Featured CategoriesView more
File Tracking Software
Are paper-based processes eating away at your productivity?
Thursday, February 5, 2015
When we speak with business managers about their biggest concerns, operational efficiency is always pretty high on the list. The challenge is to continually improve productivity while: delivering to a … Continue reading →
Hybrid Records Management
Reader Favorites, March 2015: Our most popular records management resources
Thursday, March 12, 2015
Managing the hybrid records environment requires work on many fronts.  Our most popular resources from the past month provide tips to help you do just that. To optimize your use … Continue reading →
Records Audit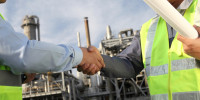 Records management best practices for acquisitions and divestitures
Friday, May 30, 2014
When an organization buys or sells a corporate entity, the records involved pose a number of unique challenges for records managers. For example, how do you make records available during the due diligence phase? How do you incorporate the records of the acquired company, or prepare records for hand off to the buyer? Continue reading →